AFFORDABLE LOANS 4 EVERY LIFE STAGE
LOANS4U provides an affordable alternative to high street and high interest lenders. Whether it's a loan before payday, a longer term loan, or to consolidate existing borrowing, your employees can repay over a set period at a lower rate of interest directly from their salary. We know that those using automatic payroll deduction are less anxious as a result.
Talk to us about how we can work with you to tailor our products to suit your employees' borrowing needs at every life stage.
Leeds Credit Union has been awarded the highest possible 5-star rating from the Fairbanking Foundation for providing loans that help people borrow better.
This means that our loans improve the financial wellbeing of our members, as they are encouraged to save as they borrow.
How does Leeds Credit Union compare?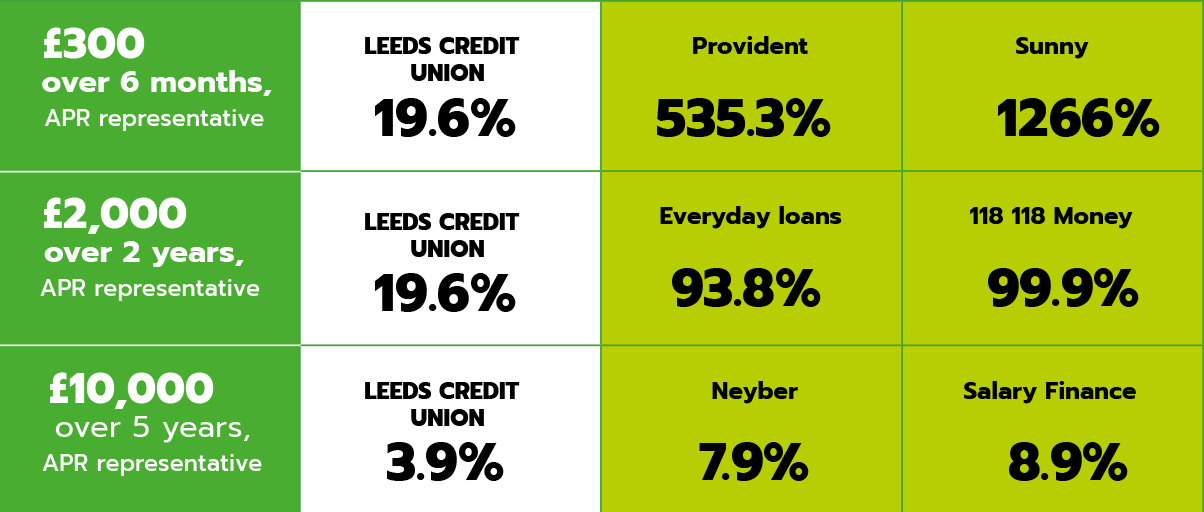 Rates accurate as of 04/03/20
LOANS4U
Our lending options include
Personal Loans
We offer personal loans from £250 up to £20,000 at fair rates of interest ranging from 3.9-42.6% APR – offering a real alternative to credit cards, banks and doorstep and payday lenders.
Family Loans
Borrow up to £500 for any of your family needs, from that new school uniform to a new washing machine or even a short break away. To be eligible, your child benefit must be paid into a Leeds Credit Union account. 42.6% APR, loans based on affordability. PLEASE NOTE: This is a branch only product.
Homeware Loans
With Leeds Credit Union's exclusive retail partnership, you can spread the cost of buying all kinds of homeware and leisure goods with low weekly repayments, fair interest rates and no hidden charges.
Choose from a wide range of goods including fridges, washers, cookers, technology, nursery furniture and lots more, visit www.leedscreditunion.co.uk/homewareloans
Car Loans
Get the wheels in motion with a Leeds Credit Union car loan. New, used, you choose. Affordable loans from £250 to £20,000.
READY TO TAKE OUT A LOAN?
"I'd built up debts over a number of years, but the interest was high, and I struggled to reduce the balances enough to make any difference. I was approved for a £15,000 loan with Leeds Credit Union which is helping turn my life around. I will be debt free in a matter of 4 years instead of 20+ years."